| | |
| --- | --- |
| Posted on January 20, 2014 at 6:10 PM | |
OK, so here is a peak into the mind of an obsessive homebrewer... 
As much as I love gadgets, I have always had a rule that if buying a gadget to solve a problem creates another problem to solve, well then that is not something I should automatically do without a lot of research.  Wanting to shave time off of my brewday, I decided that I needed a brew stand so that I could situate my brew kettle on it's burner while collecting the wort, and thus heat the wort as it is being collected - saving as much as 20-30 minutes of time I would have spent standing around watching a pot reach boiling temperature.  So I put my woodworking skills to use and built a nice wood brew stand to make my life easier on brew day.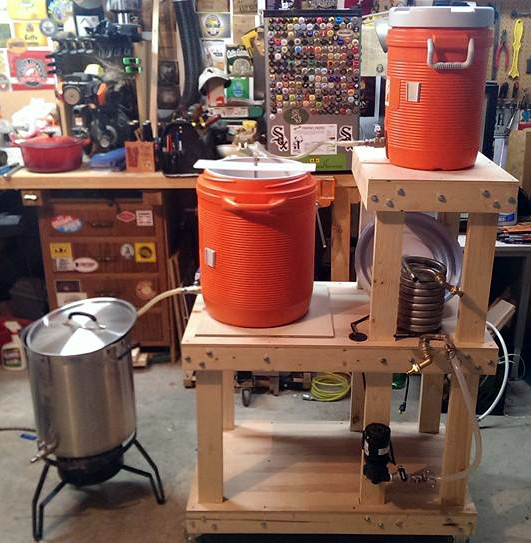 When I got my annual review at work (and thus my raise) my wife decided I should splurge on something from my brewing equipment wishlist.  So that lead to a new 10 gallon Northern Brewer Megapot 1.2 brew kettle.  That got me to thinking that I could shave significantly more time off of my brew day by getitng a counterflow wort chiller instead of using my old immersion wort chiller.  Well then, naturally that lead me to the realization that this set up would work much better if I had a pump to push the wort through the chiller as opposed to it being gravity-fed.  Then I needed to get the hoses, the quick disconnects, etc, etc.  Needless to say, I did it all, and I now have an AWESOME brew rig that should save me between 45 minutes and an hour every time I brew beer.